Steiner Ranch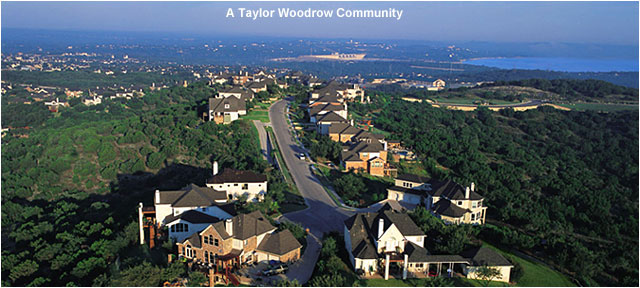 Steiner Ranch real estate is very popular with homebuyers in the Austin area, and it's not hard to see why. Conveniently situated only a 15 minute car ride west of downtown Austin , Steiner Ranch is perched right on both Lake Travis and Lake Austin . The community is close to the Mansfield dam. Not surprisingly, Steiner Ranch properties often feature spectacular water views and Steiner Ranch home owners enjoy wonderful water recreation as well as beautiful homes.
Construction on Steiner Ranch first began in 1988, and the neighborhood is a Taylor Woodrow master-planned development. This ensures wonderful neighborhood design as well as stunning, innovative homes. Construction is ongoing and new homes are available for as low as $300 000, although most new homes begin in the $400 000 price range. Resale homes – many of which date from the late 1990s, when development in the area really boomed – begin in the mid $250 000 range. Homes range in style and size, so that whether you are looking for a newly built home or a resold property, you can find something to suit your needs and your lifestyle.
Steiner Ranch residents enjoy knowing that local students can attend schools in the prestigious Leander Independent School District . In fact, three schools in Steiner Ranch are ranked as "exemplary." Home buyers with children can rest easy knowing that Steiner Ranch provides excellent educational opportunities as well as stunning homes.
In addition, Steiner Ranch also provides a number of recreational portions for residents. The community boasts an 18-hole signature golf course, the UT Golf Club. Boat ramps on Lake Travis are only 5 minutes away – great news for water sport buffs. A boat ramp is also available in Steiner Ranch. Steiner Ranch has a number of swimming pools, tennis facilities, and trails to enjoy. Plus, the prestigious Lake Austin Spa located near by. Whether you want to get fit or relax and be pampered, Steiner Ranch makes it easy to enjoy life right in your own back yard. Contact me today if you have questions about Steiner Ranch or if you want additional information about exciting Steiner Ranch real estate opportunities available for you today.